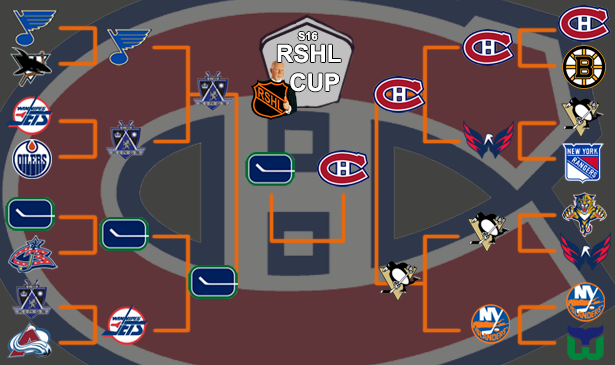 ---
Same as previously, this is where the "award a day process" of announcing our winners will be posted.
Tradeboard Updates

FLA 17 Rnd 4,EDM 17 Rnd 5,FLA 17 Rnd 5,EDM 17 Rnd 4,EDM 17 Rnd 3,EDM 17 Rnd 1
Looking to get out of this years draft because Iíll be busy and donít want to hold it up
CHI 17 Rnd 1
7th for?
Basically everybody is available if I could add some french speaking players, that will be great!
Kari Lehtonen,Marc Methot,Matthew Benning,Devin Shore,Sam Gagner,Tim Schaller,Colin Wilson
Mike Commodore,Tomas Kaberle,Curtis Glencross,Anton Babchuk
Eeli Tolvanen,Clayton Keller,Nikolaj Ehlers,Ryan Suter,Alex Pietrangelo
Upgrade over ehlers and keller as winger Different D Picks next year Could package also
Trevor Lewis,Ryan Spooner,Michael Raffl,Jimmy Hayes,Marko Dano,Keegan Lowe,Justin Auger,Ryan Mcdonagh,Nick Leddy,Reilly Smith,Roman Josi,P.k. Subban,Pekka Rinne
what's out there
Latest Updates

Trade Offer Manager
With big thanks to Marc, who showed me how offers are managed on CBS Sports site, well the internet is full of borrowed ideas, so now we have our own variation. The recent rumour about the trade submission page going away was actual fact. The submission page has been retired and will be replaced with the new process.

From your team intranet, you will find a new link to "offer a trade ...more
Replies:
4
Posted: 6/13/2019
---
Parade in full swing!
The Stanley Cup parade was in full swing today as the Montreal Canadiens arrived home early this morning showing off there freshly won Stanley Cup Championship. The Streets in Montreal were packed with adoring fans all singing "We are the Champions". The entire roster of players each positioned in there respective float with Champagne still pouring from the night prior. Coach Robinson looked to ...more
Posted: 6/11/2019
---
Habs Win! Organization beyond Happy!
Wow. What a year. I want to take this opportunity to congratulate Leni on making the finals. Leni you are the best of the best in relation to RSHL GM's. It's an honor to compete against you on any level let alone the finals. It's especially sweet to avenge our last 7 game series loss in the finals with a sweep this time around. We got hot at the right time. I wasn't expecting that at all. We w ...more
Posted: 6/10/2019
---
Canadian Tire projecting record year in sales!
Craziness! Absolute craziness!

The Streets of Montreal filled with ecstatic fans after the Habs took game 4 of the Stanley Cup Finals today with a 4-2 win over the Vancouver Canucks. The Brooms and Sweepers section at Canadian Tire had to call in additional staff and pay each staff member triple time with all the calls coming in for purchases with revenue projected to spike at an unh ...more
Replies:
1
Posted: 6/10/2019
---
Habs win Stanley Cup!
Yaaaaaaaaaaaaaaaaaaaaaaaaaaaaa baby! Habs win the cup! Habs win the cup! Oh my god, Habs win the cup!

In a surprising turn of events and in sweetpavivian fashion, the Stanley Cup is returning to the East for the first time in 10 years. The Habs clinched there 2nd Stanley Cup in team history today, but first in GM Paxtonís career with 4-2 win in game 4 at Rogers arena.

T ...more
Replies:
7

Posted: 6/10/2019
---

Activity Proposal/Discussion
Hey everyone,

Let me start off by saying Brett and company run one of if not the best fantasy hockey simulator leagues in the entire internet.
And you know what.... HE/WE DESERVES BETTER.
I talked about this previously in my newsletter. The league needs a shake up, and for some GM's a rude awakening.
We need and the league deserves fully committed and active GM's.

I ...more
Replies:
28

Originally Posted: 6/6/2019
---